Saturday, May 7th - Uncle Ike's FREE Re-stringing Clinic
(5/6/2022)
Its time again for the Uncle Ike's

FREE

re-stringing clinic.
Saturday, May 7th (10:00 AM to 5:00 PM)
Bring in any six string guitar (acoustic, nylon string or electric) and we will ...

* Remove the old strings.
* Clean the body and fret board.
* Restring with new D'Addario strings and tune it up.

Sponsored by D'Addario Strings.
And the cost to you is $0.00
(Basses $12.00 and 12 strings $6.00)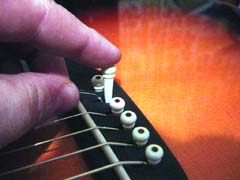 **Register to win one of several prizes to be given away that day.**
**D'Addario new Premium Acoustic & Electric strings will be used during this event**

Plus take advantage of the fine door buster deals we have thrown together for this fun filled event.