Rental Equipment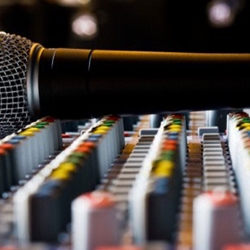 Rentals
At Ike's you can rent sound and lighting equipment by the day, weekend, or longer at very competitive rates. We can even arrange to deliver and hook up systems for nearly any event.
We can design sound system packages for any occasion. Delivery and setup are available, and we can provide a system operator if necessary. There are discount rates for charities and schools. Call, e-mail, or stop by for more information.
Please call ahead as rentals are limited to the stock on hand, reservations are accepted. Delivery's need to be set up at least two weeks in advance.

Here are some products we offer for rental:
Instruments

Daily

Weekend/2 Day

Privia Weighted Key Digital Piano and stand

Full size 88 weighted keys with plenty of great sounds. Internal amplifier and speakers but recommended to be connected to a sound system or keyboard amp for larger gatherings. Includes: stand, ac adapter, sustain pedal, seat and cable for connection to a sound system. (direct box available upon request)


39.95


59.95


Amplifiers

Daily

Eighty to 100 Watt Guitar (Stage) Amp

29.95

Eighty to one Hundred Fifty Watt Bass (Stage ) Amp

29.95

300-watt Keyboard/ Acoustic Instrument Amp

39.95

54.95


Piano & Amp Package

Daily

Digital Piano, Keyboard Amp & microphone





PA Gear (sound systems)

Daily




Weekend

Small PA System

- Just the thing for smaller crowds
conferences, meetings, party's, assembly's and Solo/Duets. Allows for hook up of phones, tablets and computers.
Includes: 500 watt mixer, 2)10" 2 way speakers with stands. 2)microphones & stands plus all needed cables.

69.95



99.95




Medium PA Package

- Great for small to medium size crowds. Our most popular package.


Bands, and larger events. Indoor or outdoor

.

Peavey 8 channel powered mixer

2) Peavey 15" 2way speaker cabinets with stands

3) Microphones with stands

all cables included.

99.95




149.95




DJ System

- Great for weddings and dances. Medium to large crowds.

Peavey 4 input DJ mixer, cables provided for MP3 input (phones, tablets or computers).


(stand alone CD Player available on request)


Peavey 1000 watt powered enclosures -


two way speakers with stands

Microphone and all cables included

99.95




149.95




Large PA Systems

-

several models to choose from ...

We offer larger systems for nearly any size event.

Deliver, setup and an operator can be provided.

Please contact us with your needs.

Call




Call




Tower Speaker System - 1000 watt powered column loudspeaker

Perfect for solo and duets, also performs nicely as a great background speaker in small to medium sized venues. Match with a passive mixer to get the most from this lightweight system.

69.95






109.95



















POWER AMPS




1500 to 2000 watts

29.95




39.95



2500 watts +

34.95




49.95













Speaker Enclosures
Passive two way 12" Speakers (pair)


34.95




59.95



Passive two way, 15" Speakers (pair)


39.95




69.95



Powered 15" Speakers (pair)


59.95




84.95



Powered 12" Monitors (each)


29.95




39.95



Powered 15" Sub-Woofer (each)

39.95
69.95
MIXERS
Powered Mixer - 400 watts, 8 channels.

39.95




59.95

12 channel un-powered mixer
49.95
74.95

Other small format mixers - 3 to 5 inputs, easy to use for basic mixing
29.95

44.95

Extras










Microphones hanheld dynamic vocal (Includes Stand & Cable)

9.95




14.95



Wireless Handheld or Lapel Mics

19.95




29.95



Direct Boxes (passive or active)

9.95




14.95



Snake (100' 24 channel)

24.95




34.95



Lighting and Effects











LED Par64 Package Light System

- ( 4 bright Par 64 LED Lights, 12' Pro lighting stand controlled, 9 chase patterns, speed/fade controls)

39.95




59.95




LED Par 38 Light Tree

- sets up in minutes, new bright LED system with foot controlled color change & 8 ' tree

29.95




39.95